HQ Premium WP-Themes
WordPress is a high quality blog software and for such a good base of your website you need a suitable theme, that fits your needs. HQPremiumThemes.com is the place, where you can find HQ Premium Themes for WordPress.
Beside a good theme it is essential to create quality content on a website and drive good traffic to it. With the new german RaketenSEO System this could be done very easy.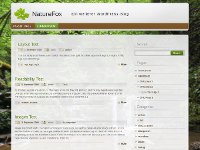 The color of NatureFox is based on brown and green tones. As already mentioned, the background image shows the natural environment of a red fox. The theme is free to use like Firefox and of course can also be customized to your needs.